TINOS FESTIVAL – CULTURE 2019
Art director: Themis Rodamitis
Concert:Georgia Velivasaki
The Sea Within Me
14/7 – Xinara
Universal Halepas, with Aspasia Papadoperraki
Recital: DuoCrama. Mirka Lambropoulou: acoustic guitar
Elsa Papeli: cello
19/7 – Falatados School
3. Recital:Valentina Pätzold, violin and Fiona Fortin, piano
Sunday 21/7
Loutra
Maryll Abbas trio
Joris Viquesne, guitar
Benoît Josse, violin
Maryll Abbas, accordion Narration from Jacques Lacarrière's L'été grec (Greek Summer), prior to the performance.
24/7 – Triantaros School
Concert: Kostis Maraveyas
25/7 – Loutra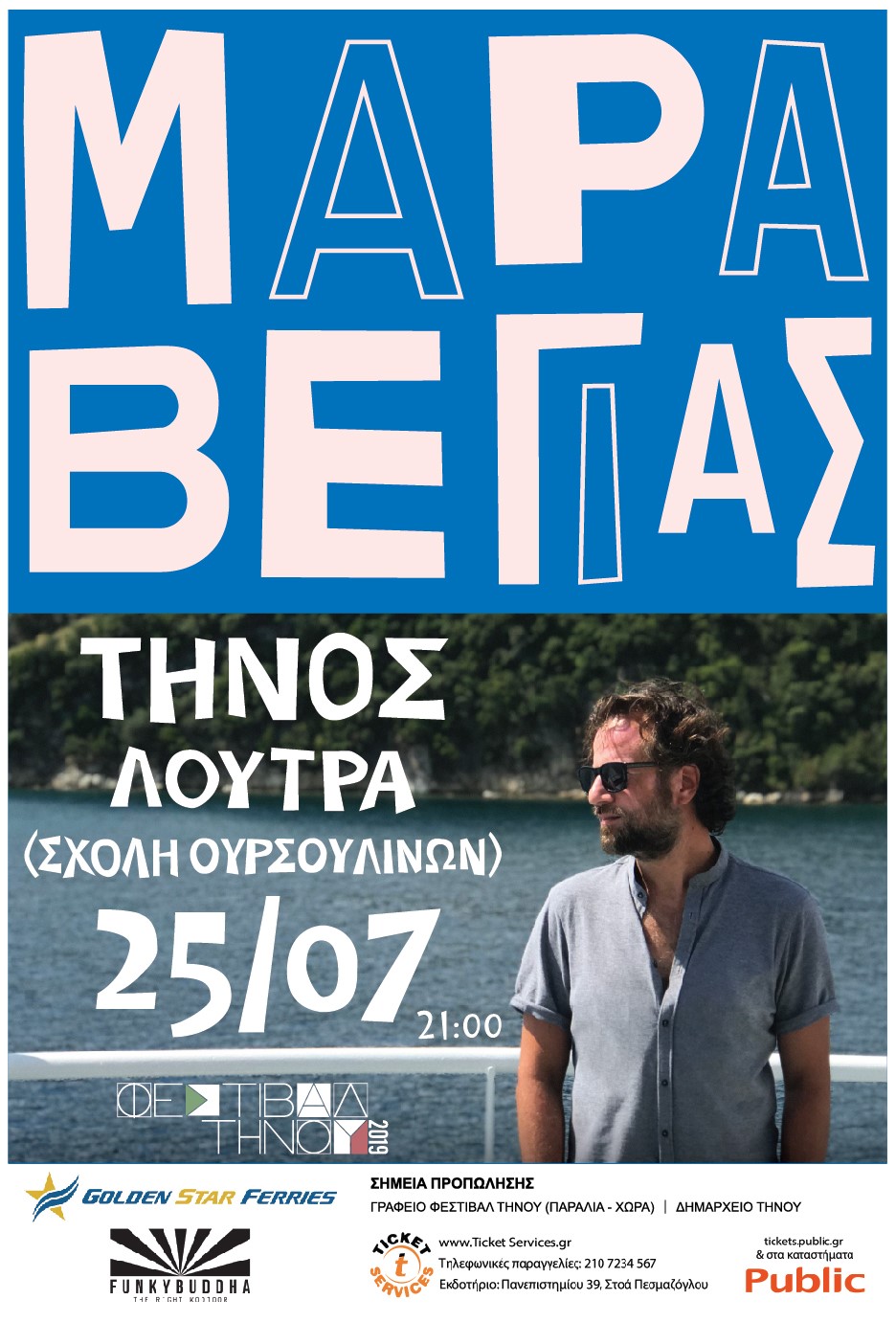 Children theater performance: The Boy who dared
A co-production of Municipal and Regional Theeater of Roumeli and Ergostasio Onirou (Dream Factory) Friday 26/7 – Loutra
Concert: Eleftheria Arvanitaki
Organized by the "Friends of Tinos" Society
27/7 – Loutra
Skalkotas and Papadiamantis among the "ruins", with Aris Retsos
29/7 – Perastra
"The unfounded statue" 
"found the artist… inside a basement"
Words and gestures of Yannoulis Halepas, with Aris Retsos.
30/7 – Pyrgos
Giorgos and Nikos Stratakis
Beyond Crete
31/7 – Loutra
Concert: Thanassis Polykandriotis
The Great Music Duos
4/8
Musk-trees and jasmines – Let's remember the old days
Musical
Actors: Fotinopoulou, Sigalos, Maropoulos, Kourenti
Dancers: Koroutis, Noti, Palamari, Yanis, Palaska, Malakos
Director: G. Kiriakis, Script: V. Stabelou, Piano: D. Giakas
5/8 – Loutra
Stefanos Korkolis – Sofia Manousaki Concert
We sing our poets
12/8 – Loutra
Hatzidakis in Tinos
Stefanos Thomopoulos, piano – Dionissis Sourbis, vocals.
18/8 – Koumaros
Children theater performance: Marisa the Donkey
Director: F. Spiros, Actors: G. Iliopoulos, R. Mihalopoulou
19/8 – Loutra
Lavrentis Maheritsas – Nikos Portokaloglou Concert
20/8 – Loutra
Violin recital: Petros Christidis
21/8  – Xinara church
Theater performance: The Chairs του Ιονέσκο
Director: Jean-Paul Denison, Actors: Γ. Σταματίου, Ελ. Παπαχριστοπούλου
24/8 – Arnados School
Why do we love detective novels? – Femmes Fatales and Jazz Police Inspectors
Panoussis, H. Papadimitriou, Ch. Spiropoulou
St. Pelasgos, A. Papagianakopoulos (guitars), C. Sitokonstantinou (percussion), M. Kirma (dancing)
26/8 – Ysternia
– Odyssey and Tinos, Haris Koutelakis
– Tinian Fairytales of the Wind, Stelios Pelasgos
27/8 – Aetofolia
Tribute: Thessaloniki and folkore
Readings – Workshops – Creative Writing – Concerts
Υπεύθυνοι: Kostas Kalimeris, Thomas Korovinis
27-28-29/8
Motectum Vocal Ensemble
Secular and religious music from the Middle Ages until Baroque.
Meliou, Koutsoumani, Mantziou, Zakolikou, Evageliou, Adamopoulou, Tsalafouta, Andreadakis, Hiou, Zahilas, Metaxas.
Direc.: G. Vrizakis
31/8 – Xobourgo, Monastery of the Sacred Heart
We all sing along –Aegean
Melidron Group
5/9 – Kardiani
Music and songs from all over the world
Celtic harp – Elisa Vellia
6/9 – Ampelonas Tripotamou
Yannoulis Halepas, the Legend of Modern Greek sculpture.
Book presentation, comics and live music.
7/9 – Municipal Nursery, Chora
On the Rock: The Acropolis Interviews
Tinian marble artisans at the Acropolis
14/9 – 2nd Elementary School, Chora
Argilos (Clay)
Poetic performance
The Bad Poetry Social Club
21/9 – Chora
Interactive events
Aerialists, juggler, magicians
September 2019
1st Elementary School, Chora
The Holocaust and the rescue of Greek Hebrews during 1941 – 1944. The contribution of Archbishop Damaskinos Papandreou.
Research: G. Katomeris
Sunday, October 27
Cultural Foundation of Tinos, Chora
EXHIBITIONS
– Photography, Denia Panagaki
Water is life. Fountains of Tinos
3/7 – 31/7 – Dio Choria
– Painting, Vali Kolotourou
Anything small and beautiful
20/7 – 10/8 – Ysternia School
– Painting, Katerina Christidi
On the top that was still taking its form
23/7 – 11/8 – Triantaros School
– Painting, "allotria" group exhibition
Manoussakis, C. Katsatsidis, T. Missouras, A. Antonopoulos, P. Tanimanidis, Chr. Antonaropoulos.
Curator: M. Stefanidis
26/7 –  16/8 – Triantaros (Aspalathos)
– Photography, Kaiti Fouski
DELOS. Vernal and graceful. A place of remembrance, in the present
2/8 – 31/8 – Arnados School
– Painting, Manthos Gaitis. Sonata for an unexpected love. A tribute to Federico García Lorca.
8/8 –  22/8
Tenion Hotel, Chora
– Cartoons, Kostas and Vassilis Mitropoulos at the "Spiti tou Skitsou" ("House of Sketches")
Falatados (throughout the summer)
– Sculpture, Argiris and Minas Maravelias
Ambeli Tripotamou (throughout the summer)
– Permanent exhibition of Babis Retzepopoulos' works at Arnados School
Arnados School