We long for turquoise seas, shimmering sand and serenity… For holidays in the tiny island of eternal summer and Cycladic exoticism. We long for a dream voyage.
ANO KOUFONISI
All the beauty of Cyclades is concentrated in a tiny dot on the map. Ano Koufonisi is not just another alternative destination of the Aegean. It is the definition of heaven on earth, and a miniature one for that matter. Its total area is only 3.7 km2, which means that you can see it all in just two hours and go everywhere on foot (cars are unnecessary here). Surrounded by exotic turquoise waters, hollow rocks, caves —once grottos of pirates— and stretches of golden sand, it looks like a vast beach. Epano Nissi, as locals call it, boasts one and only settlement, approximately 400 permanent jovial residents and an unspoiled landscape that will steal your heart. Perched above the "exotic" port with the transparent sea, lies tiny Chorio —or Chora— with its pristine white Cycladic small houses, whitewashed narrow streets, the quaint church of Agios Georgios — the patron saint of the island—, and the main cobbled street, where you can find high-quality rakómelo (a traditional Greek mixed alcoholic drink), loukoumades (Greek donuts) and hearty Greek street food.
KARNAGIO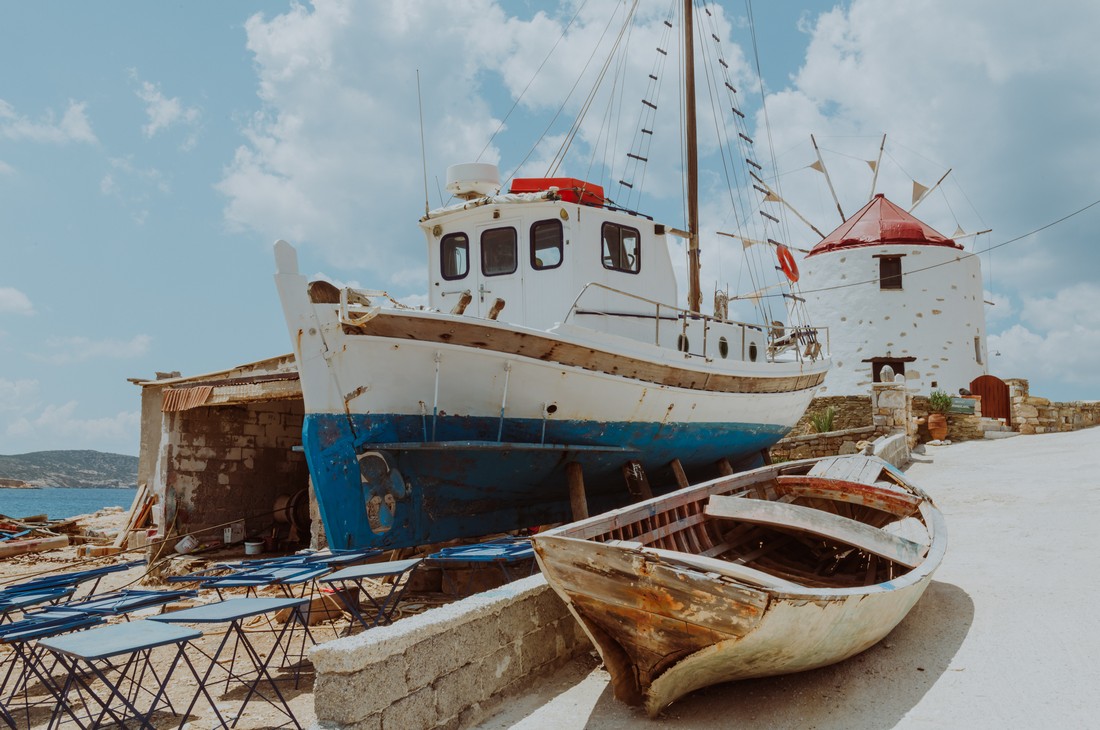 A walk to Loutro, an area in Chorio, and the dockyard of 1980 will take you back to days long gone, when fishing boats were repaired and maintained with traditional techniques. Freshly painted hulls, the scent of wood and anti-fouling paint… A snapshot of the present that awakens sweet nostalgia for the past. The traditional dockyard of Ano Koufonisi is the only one in all the Small (or Lesser) Cyclades.
GALA
Beneath towering sedimentary rocks hides a secluded stretch of sand with white waters, ready for visitors willing to follow the trail from Pori to the east (about 550 m.), climb, possibly get tired but also get rewarded once they lay eyes on the unexpected geological formations of this beach. In Gala —or Tripiti, as the locals call it—, frothy waves hem a rock cave, creating a tiny beach with milky waters (Gala means "milk" in Greek), hued by the lime of the rock walls. If the sea is calm, you can dive and find yourself in the open sea, feeling a sense of absolute freedom.
PISINA
This beach certainly lives up to its name, which means "swimming pool" in Greek! Nestled between Italida and Pori, on the eastern part of Ano Koufonisi, Pisina proves that Nature can create magic. The erosion of the tufa by the sea has created a natural swimming pool with green waters, calling for one-of-the-kind, bold dives. Pisina is a 5-minute walk from Pori.
XILOMBATIS CAVES
To travel to Ano Koufonisi is to gather a cornucopia of experiences. Relax in the waters of tiny creeks, seemingly made only for two, follow the coastal route to reach Italida beach, swim in Pori. From there, walk about 150 m. north of the sandy beach on the rocky ground, to reach Xilombatis Bay and its sea caves. Like natural sculptures chiseled by the winds and the salt, these water caves with their green waters, make up an impressive landscape in their simplicity and a spot for unforgettable dives. In fact, one of them ends up on a hidden beach! You can reach Xilombatis Caves either by boat from the port of Chora or by carefully descending the rocks of the nearby coast at Pori and then swimming.
TO MATI TOU DIAVOLOU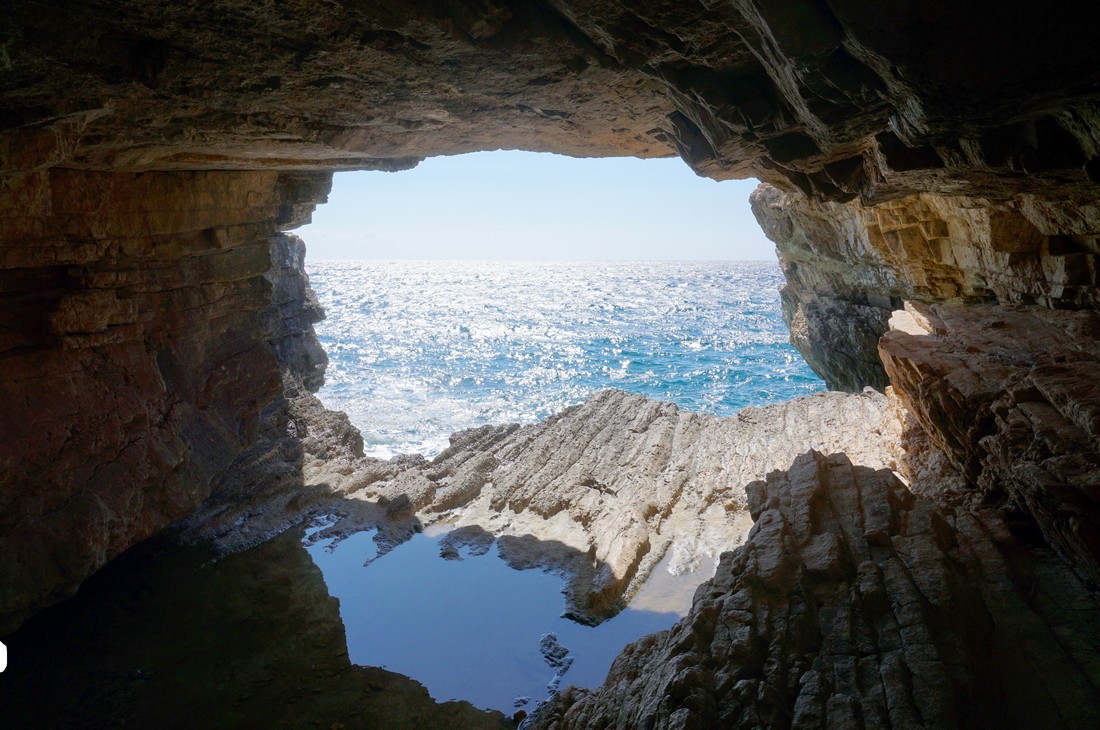 If you are a discovery enthusiast, you should definitely visit this small cave near Pori, walking along the coastline, to the right end of the bay (3′ from Pisina beach). Entering an opening between the rocks, you will see the entrance of the cave and, to the right, To Mati tou Diavolou ("The eye of the devil" in Greek), a hole that connects with the sea and creates a unique phenomenon; strong currents bring the stormy waters to the cave bottom and then they pull back, revealing the unfathomable power of the sea.
KATO KOUFONISI
A strait only 200 m wide separates it from Ano Koufonisi, yet when the boat stops at the old settlement of Panagia, you feel like time stands still in this place. Uninhabited, Kato Koufonisi is empty, with the exception of some flocks of sheep and goats, few summer houses (building has been prohibited since 1992), old buildings now used as warehouses by farmers or fishermen, the humble small church of Panagia, dedicated to the Dormition of Virgin Mary and celebrating it on 15 August with a great panigiri (festival), and the legendary tavern of Venetsanos —the only one on the island— operating during the months of summer. If you want to get away from the hustle and bustle of the city, to experience a primordial reality in the Eden of the Aegean, you must choose Kato Koufonisi. The boat of Prasinos will let you on the idyllic beach of Nero. Once you set foot on the coast, you will recognize modern day Robinson Crusoes who chose to spend their vacations only with the absolute necessary in their tents, sharing the shade of tamarisks and forgotten palm trees and a bright starlit sky. Except for free campers, you will also meet naturists, modern-day Adams and Eves who not concern themselves with bathing suits and amenities. Wild Kato Koufonisi, with its unspoiled landscape, is the definition of freedom. You will feel it too if you hike up to Alonistria hill to enjoy undisturbed views of Keros and Epano Nissi, or swim in virgin beaches of absolute tranquility, like Pezoulia, Lakki and Fikios.
KASTELLI
A masterpiece of… Mother Nature, in Kato Koufonisi. On the northwestern part of the island, scattered rocks emerging from the glass blue sea of Lesser Cyclades welcome you to this uninhabited place, strongly reminiscent of the famous Kleftiko beach in Milos island. Steep, perpendicular rock formations create narrow sea passages and secret stretches of sand seemingly taken from a movie's tropical set. You can reach Kastelli only with yacht or chartered boat.
KEROS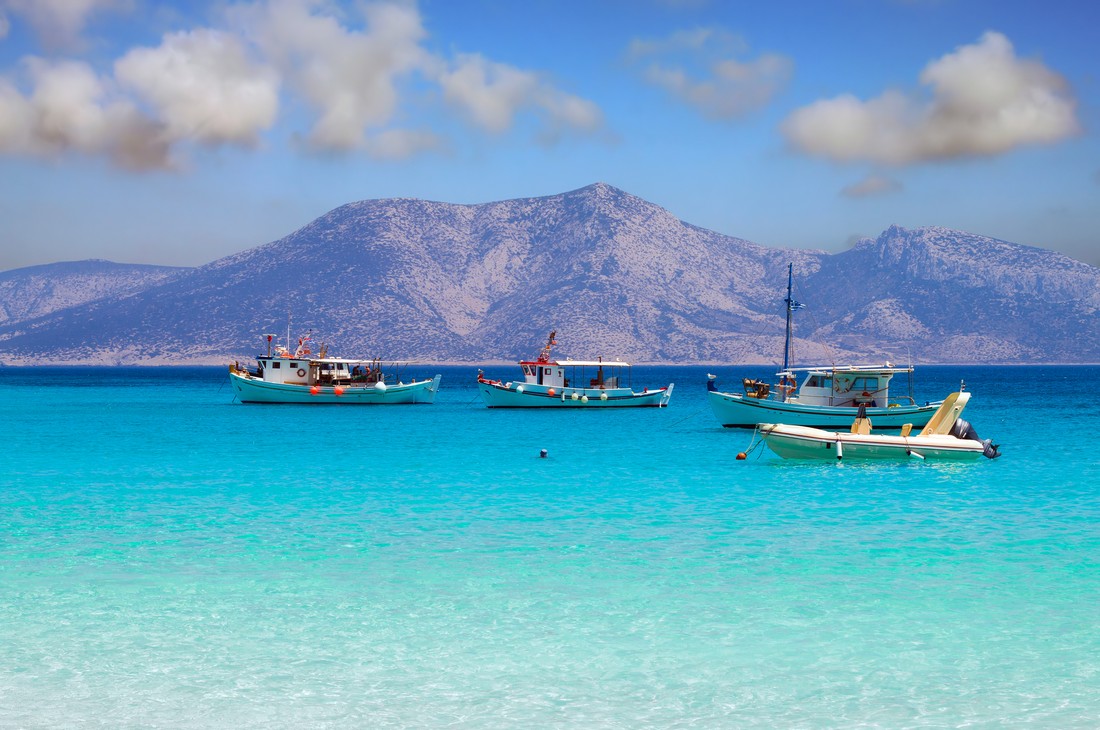 This barren, mountainous, uninhabited and mysterious land oozes with inexplicable energy. They say that if you gaze at Keros from Ano Koufonisi on a full moon night, you will discern a woman figure on the curves of the skyline; it is that same woman lying on the rocks that became a source of inspiration for the world famous Cycladic figurines. So, two nautical miles south from Ano Koufonisi, between Naxos and Amorgos, a now silent and enigmatic isle with a total area of 15 km2 has a great tale to tell. According to archaeologists, Keros was the first substantial religious center of the Aegean since the Early Bronze Age, while the invaluable finds from the Early Cycladic Period excavated at the area of Kavos and dated back to 2800-2200 BC. reinforce the opinion that this is the most ancient island sanctuary in the world. In 1884, two marble statuettes of the Early Cycladic Period, the Flute Player (Avlitis) and the Harp Player (Harpistis) of Keros were brought to light from the innards of this forgotten sacred island, now on display in the National Archaeological Museum of Athens. You can reach Keros with a chartered boat from Αno Koufonisi, yet you are not allowed to stay for the night, as the island is a protected archaeological site.
GLARONISSI
Its permanent winged inhabitants gave this island their name, which means "Island of Seagulls" in Greek and is only 600 m. from Kato Koufonisi. Seagulls choose this virgin land to rest and mate, but it can also be your place of choice if you are interested in discovering secluded beaches and rock caves surrounded by waters of emerald green. The only way to reach Glaronissi is by a sea vessel.