Avis
A beach that is preferred in times of high winds because it is ideal for water sports and so it is a meeting place for windsurfers 2.6 km. away from Ekso Gonia village.
Armeni
Crystal clear waters beside picturesque taverns just below the magical village of Oia. A particular seabed hidden in such a small port reveals a special bathing experience for the visitor.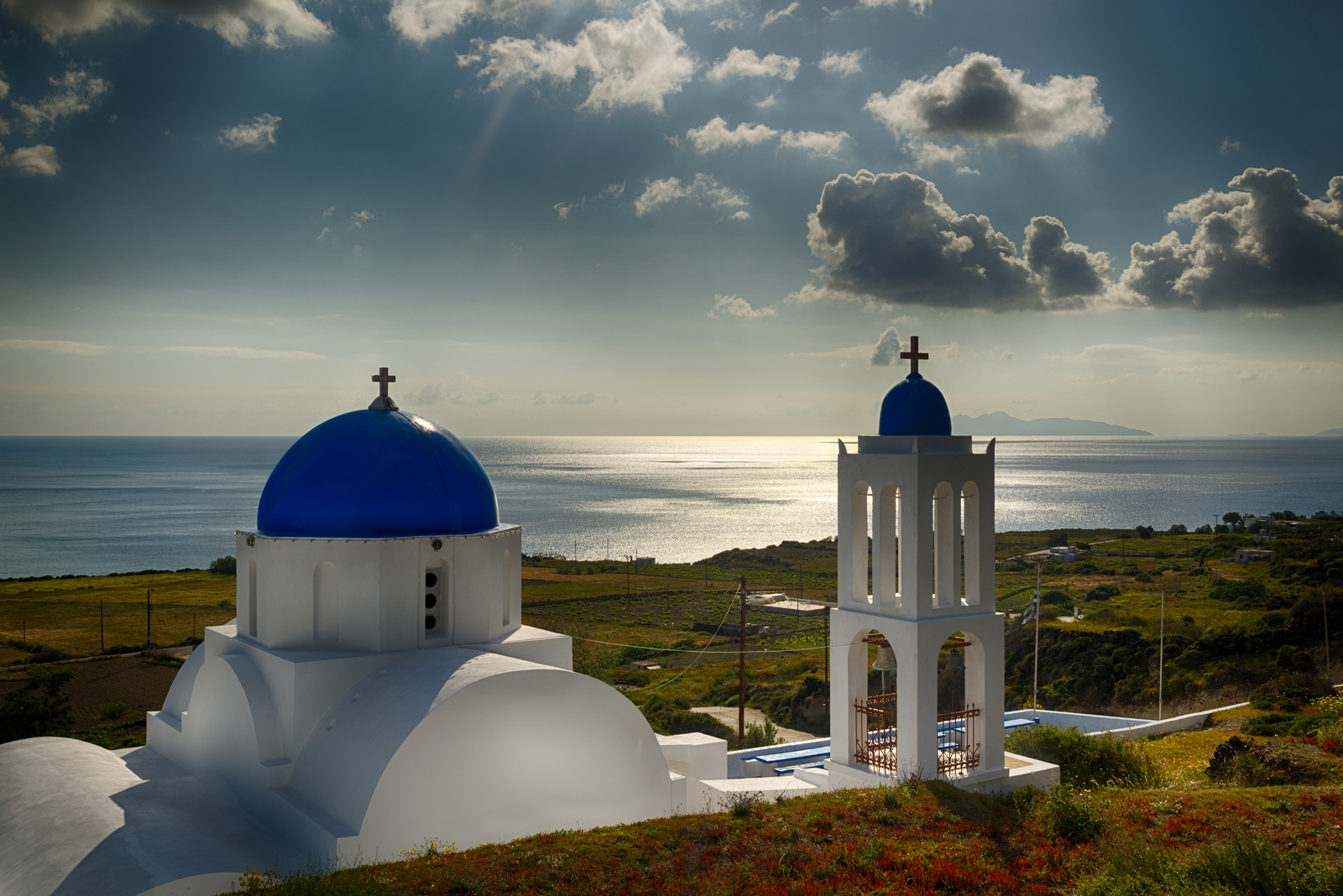 Vourvoulos
Black Pebble, Tamarisks and scarce umbrellas is the landscape that will meet the bathers in their path 7 km. away from Fira. The calm and picturesque taverns make Vourvoulos beach an ideal destination to relax and decompress from the social whirl of the island.
Gialos
A black beach surrounded by red cliffs Gialos beach fascinates visitors and is capable to keep him in the area for hours in its beautiful colors.
Kamari
A cosmopolitan village with high tourist amenities which is almost the most independent settlement in Santorini island. An enormous beach with black as a dominant color is likely to keep the bathers interest for days.
Mesa Pigadia
Fine white pebbles surrounded by a very beautiful clump of rocks heading to Faros. Crystal clear waters and a few facilities in the area complement pleasantly visitor's experience.
Monolithos
The shallowness and the clear waters of the beach puts Monolithos first in preferences mainly for families nearby the airport. There are many hospitality amenities for the tourists. In Monolithos visitors may see the Old Tomato Industry of Nomikos.
Mbaksedes or Paradeisos
A beautiful beach, as its name suggests because Paradeisos means Heaven, with endless sandy coast and shallow waters just a few meters from Oia.
Ekso Gialos – Karterado
The closest beach to the cosmopolitan Fira, which, however, does not go with the flow with Fira "recipe" and maintains a quiet character but still an excellent choice.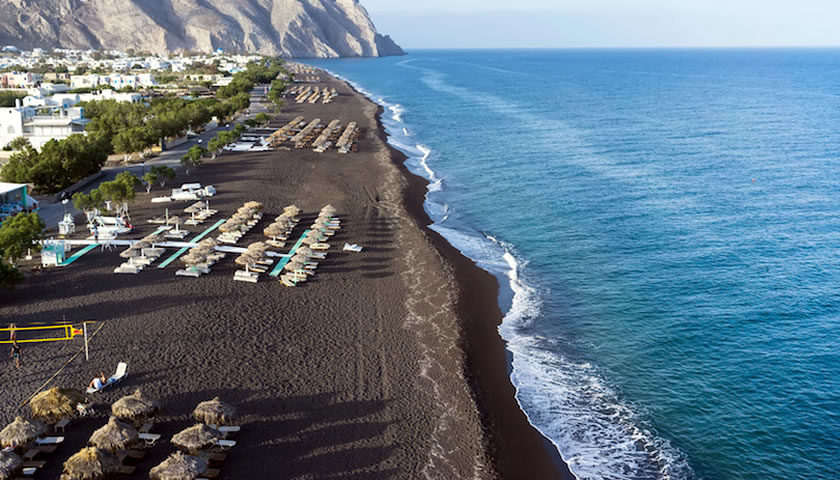 Perivolos
After Fira, the island rhythm beats in Perivolos. Liveliness and laughter are uniquely combined with crystal clear waters in a charming black landscape.
Perissa
Perissa beach satisfies even the most discerning bather, and offers a wide range of water sports for those who dare to put a little extra adrenaline in their lives.
Aspri Paralia
A black and white landscape accessible only by sea. White cliffs embrace amazing the black fine sand with a few tourist amenities.
Vlychada
A keen lunar landscape that captivates visitors with its unique natural architecture 13 km. from Fira. White cliffs emerge in the blue waters of Aegean Sea.
Thermi (Hristos)
The village owes its name to the impressive church of Christ Thermi, which formats an exotic view to the traveler's staying in the area.
Coloumbos
Secluded and with minimal tourist amenities Coloumbo beach is a favorite choice for nature lovers, but also for those who are all for nudism and its only 4 km. away from Oia. An important sightseeing of the region is the undersea active volcano of Coloumbo.
Kantharos
Gray sand divided in the middle by rocks and an amazing view to Thirasia.