Lokum is one of the most famous products of Syros as well as an inextricable part of its history. We wander through icing sugar-dusted streets, discovering the most delicious habit of the island!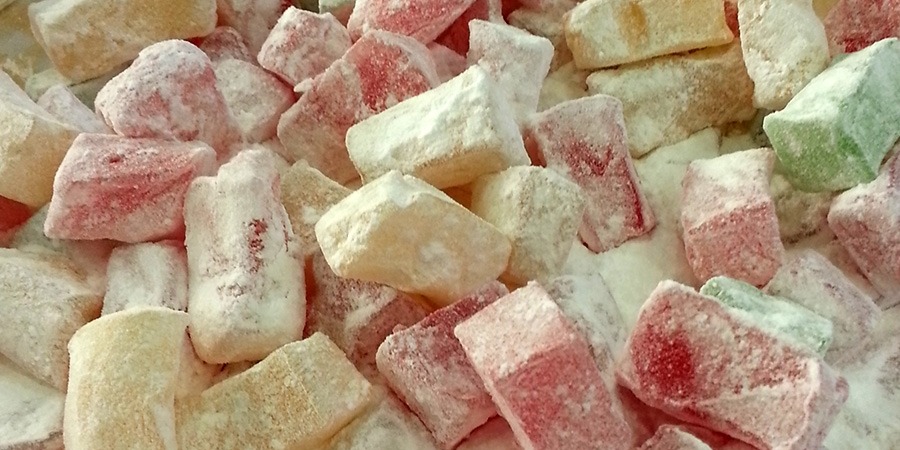 A sweet welcome kiss of Ermoupolis
As the speakers announce the arrival at Syros, the ship ties at the port of Ermoupolis, the capital of the island, and the hatch cover opens. Just when the first passengers are ready to disembark, lokum sellers dressed in white flock into the ship with their hampers packed chock-full, selling the most famous product of their land, lokum! Their mission may be brief as time runs against them, but they know that no one can resist the most famous sweet of the Aegean. The ship sails away, lokum sellers return to their posts, and visitors of Syros begin to wander around the homeland of this toothsome delicacy that will accompany every moment of their stay on the island; it will be served along with Greek coffee in the traditional cafès of Miaouli square, or as a dessert after some delicious mezè dishes in the taverns of Ano Syros, and it will seem as the ideal sweet souvenir for friends and family on their way home!
Syros lokum history
Syros lokum had been already popular on the island even before Ermoupolis was graced with a neoclassical jewel of a Town Hall. The first Chians who found shelter in Syros after the massacre of 1822 brought not only their luggage and ragged souls but also the art of lokum making and the traditional recipe from Constantinople. So Chians slowly began to build shacks with fireplaces and ovens for lokum making in the place of Miaouli square. It is said that the first lokum cauldron was set in Syros in 1832, while the first official lokum confectioner's, Nikolaos Stamatelakis, brand seal was established in 1837. The first Syros lokums were made with ingredients abundant in Chios, such as mastic, rose sugar with almond, and rose. Thanks to their incomparable taste, they soon rose to world prominence, becoming the first Greek export product! Tons of Syros lokum departed from the port of Ermoupolis to reach the palaces in Vienna and Paris, consulates and embassies. After 1840, they even reached the depths of the Orient and Japan. Intricate labels with the trademark of every lokum confectioner —eagle, tiger, bee, lion, winged Hermès— ornated the lokum packaging that looked like fine jewelry boxes, perfectly matching the simple yet sophisticated awarded sweet. Syros lokum soon became a must have sweet in every Greek household and a trademark of Syros!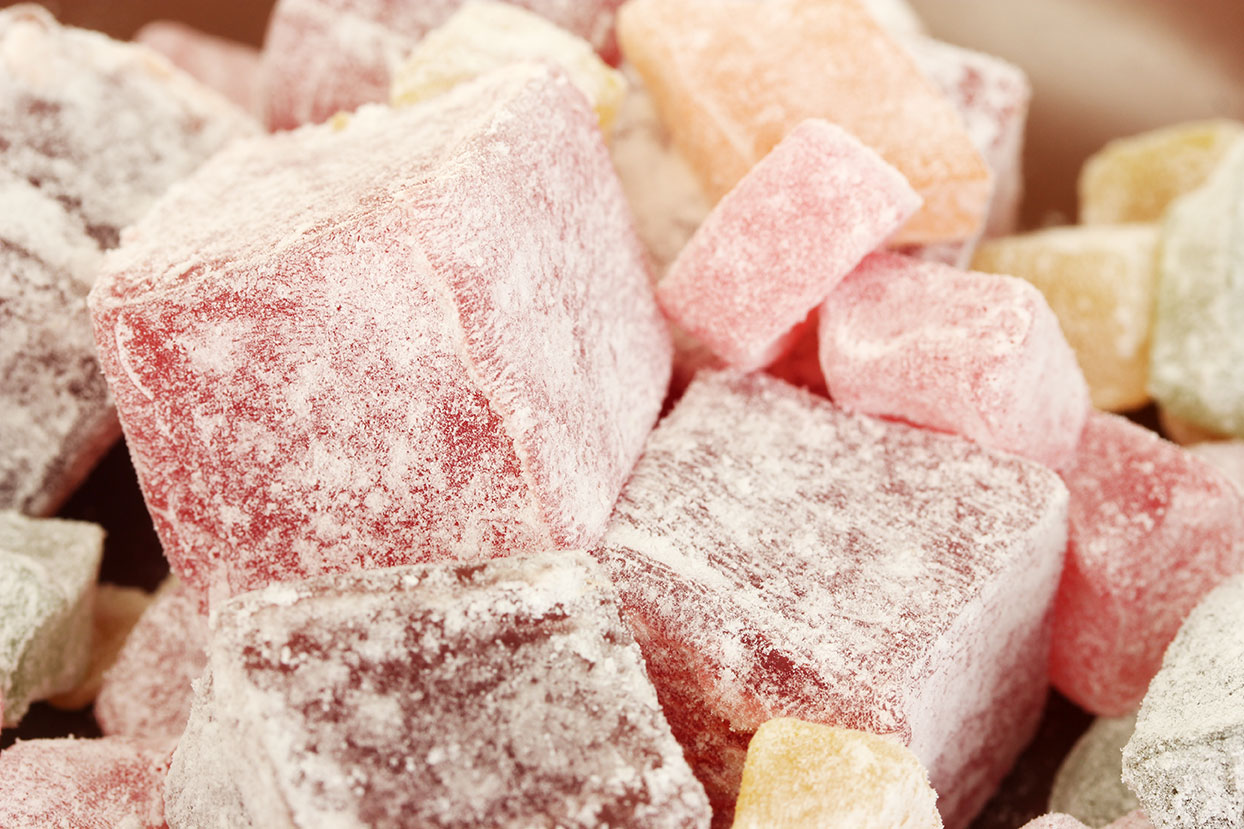 Syros lokum in the making
The traditional Syros lokum recipe has remained unchanged throughout all these years. The basic pure ingredients —water, starch, sugar, food coloring and flavoring of choice— boil together in a big copper cauldron, in a fireplace built with firebricks. When the aromatic mixture thickens to jelly, confectioners add dried nuts, such as almonds, pistachios and walnuts. Then they lay the hot syrupy blob on a tin surface and leave it to rest until the next day, when they dust it with icing sugar and cut it into cubes. Then Syros lokums are ready to be packaged and put on the market. You may get to taste many a lokum during a lifetime, but Syros lokum is love at first bite. Its taste differs from those produced in several other Greek areas. But what is the ingredient that makes it unique? Locals believe that the secret of its success lies in the brackish water from the few fountains of their otherwise arid island, which gives to Syros lokum that distinctive taste.
Syros lokum tradition-driven confectioners
Several artisanal confectioners on the island continue the legacy of Syros lokum up to this day, making the production of this mouthwatering sweet particularly important for the local economy. The most famous lokum confectioners are Sykoutris, Livadaras, Kanakaris, Korres, Denaxas and Georgiou. Actually, Livadaras' confectioner exports 2 tons of Syros lokum every month!
Every time these admirable Syros lokum makers experiment with new flavors in order to add more varieties, they put all the love, passion and mastery they inherited from their predecessors. Strolling the promenade of Ermoupolis, you will find lokum stores offering all time classic flavors, like rose, mastic, rose sugar and bergamot, as well as unexpected versions with desiccated coconut, chocolate, tangerine, lemon, pistachio, hazelnut, sage, rosemary, ouzo, banana and many more! Another Syros delicacy that can fascinate even the most discerning of palates is the traditional xeroloùkoumo, a type of Syros lokum covered in icing sugar and cured for almost a year in wooden containers!