After burning King Karnavalos – the king of the Carnival, we set the festive table, fly the kite, and celebrate Clean Monday in the little Athenian 'oases'.
Filopappou Hill
Filopappou Hill is a classic point of Athens for kite flying and the celebration of Clean Monday. The inhabitants of the city centre – and not exclusively – gather there to honour the tradition with a picnic, bringing countless containers with delicacies like, traditional halva, lagana bread (sesame flatbread), dolmas, calamari, octopus, gigantes beans, spicy pickles, taramosalata (fish roe dip), and fava (split pea dip). The Filopappou Hill transforms into an open-air restaurant, filled with laughter, dancing, and singing: all under the, colorful with the countless kites, sky. Filopappou hill attracts even the more alternative among us who just want to gaze at Athens from above and then walk downhill for coffee or food at one of beautiful cafes and restaurants in Thiseio or walk the most beautiful pedestrian street in Athens, Dionysiou Areopagitou, beside lilliputian carnivalistas celebrating the end of the Carnival. The City of Athens organizes a beautiful celebration for the end of the Carnival period and the first day of Lent. The events will begin at 11:00 with the Athens Philharmonic Orchestra, while at 12:00 there will be a concert with the group of Spyros Polykandriotis.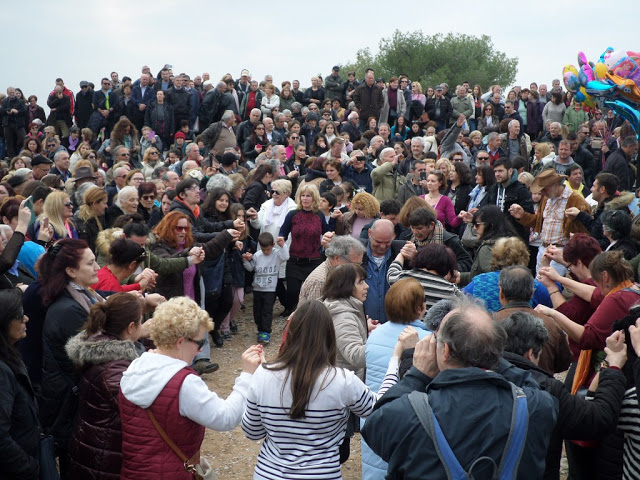 Stavros Niarchos Park
A visit to Stavros Niarchos Park is enough to understand why it immediately became a favourite destination among Athenians; the inviting paths within the green park, various types of wooden constructions-playgrounds for children and the Great Lawn designed for amazing concerts make up a splendid setting in the heart of Athens. The Stavros Niarchos Foundation participates in the celebrations for the Clean Monday and hosts Lambros Liavas and the TAKIM band in the Great Lawn, in a feast with traditional songs and dances from all parts of Hellenism. The events include carnival gaitanaki and all kinds of Greek traditional dances. The Stavros Niarchos Foundation is hosting the clarinet master, Petroloukas Chalkias, singers Stavroula Daliani and Giannis Niarchos, the Pontian lyra player Elias Avramidis, as well as musicians, singers and dancers from the Folklore Music and Dance Club of Glyfada 'Chorostasi', and the historical Pontian Association of Kallithea, Argonautai-Komninoi.
See the event here