Typically, all Greek folk tales begin with a verse on the unravelling of a red thread. This is also the beginning of the 5th Tinos Food Paths, which will be held between 13-19 May in Kalloni village, Tinos.
"In mills In threshing floors In Kalloni The magic circle of life"…
2019 marks the fifth year of Tinos Food Paths' success, and Tinos uses this motto as a pole of interest of Greek and foreign visitors for another year. The event, which will be hosted in Kalloni, a village of the Tenian mainland includes interactive concepts, artistic installations, hiking in mills, threshing floors and kelià (rural houses), folk tale narrations and cooking workshops, in order to showcase the culture, gastronomy, lifestyle and customs of Tinos dwellers.
Visitors will reach Kalloni following a red thread. This red thread leads to keywords on the poster of the event. The main keyword is ΚΑΛΛΟΝΗ, a derivative of the Greek noun "kàllos" summarizing the qualities of beauty, kindness and virtue. The letters of the word, scattered on the poster, define a new space planning and the field of activities during the event.
Tinos Food Paths 2019 focuses on humanity and its main characteristics:
Kàllos
Beauty
Kindness
Virtue
All of the above also apply 100% to Kalloni village. You will have the chance to see it for yourself if you choose to visit this quaint village of Tinos between 13-19 May. At the same time, parallel activities will be held in Chora's Paleà Psaragorà (Old Fish Market). Members of the Hellenic Chefs Association and other renowned culinary personas, —Vasilis Alvanides, Iakovos Apergis, Aris Vezenes, Katerina Vamvoukas with Madame Ginger, Dimitris Giginis, Angelina Kalogeropoulou, Artenis Kokkinara, Nikos Koukiasas, Georgia Koutsoukou, Angelos Landos, Akis Liokatis, Elias Mamalakis, Yanna Balafoutis, Dina Nikolaou, Alexandros Papandreou, Stelios Parliaros and Eleni Saviolaki, just to name a few— will show their cooking mastery. The journalists Dimitris Stamou and Haris Tzanis and members of the Kalamata School of Tourism will also host interesting presentations.
Accompanying Tinos Food Paths 2019 is the 3rd Aegean Cocktail & Spirits Workshop (12-15 May). In order to promote the Greek distills, the greatest Aegean Cocktails Pop Up Bar will be set up, with 30 top bartenders from Greece and other countries serving cocktails made with Greek ingredients.
Tinos Food Paths 2019 begins on Sunday, May 12, in Paleà Psaragorà.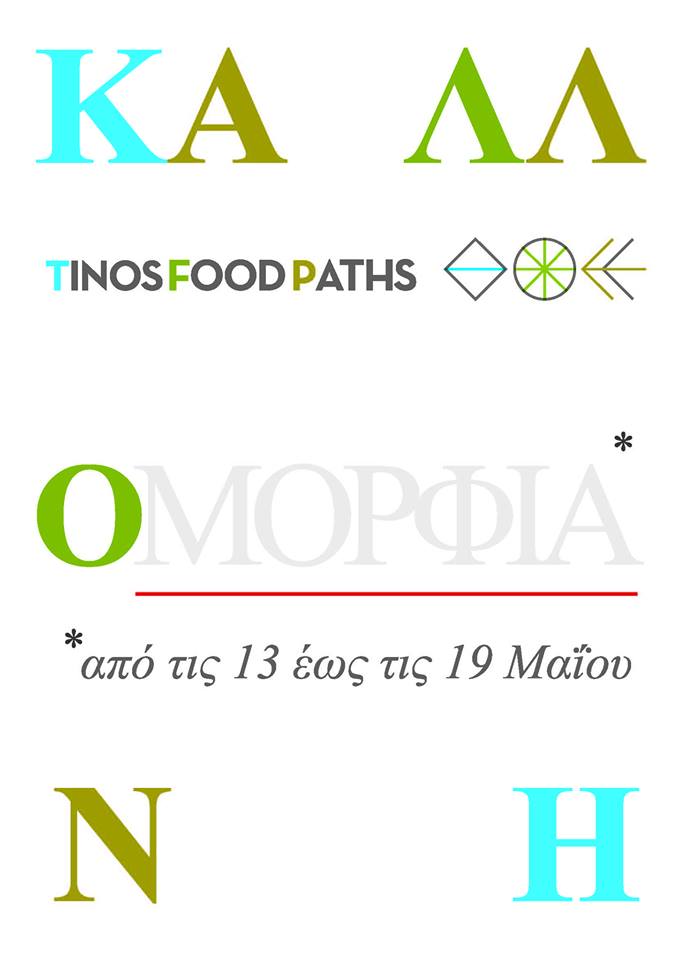 What is Tinos Food Paths? Tinos Food Paths is an initiative of young culinary professionals working on the island, in order to promote Tinos into a top foodie destination. This initiative is also supported by agents of the tourism and agriculture sectors, local and foreign volunteers with the will and the passion to promote the tradition, culture, customs and local products of Tinos through its gastronomy.
Folklorists, historians, nutritionists, chefs, bloggers and more than 300 Greek and foreign volunteers participate in this celebration of civilization and gastronomy, proving that Tinos has legacy in team work. During the last four years of Tinos Food Paths, more than 4.000 people visited the island, more than 50 food bloggers wrote their thoughts and impressions, and more than 100 chefs cooked and shared some of their top recipes.
Tinos Food Paths is a brilliant example of bringing out the tradition, culture, customs, history and the beauty of a land through volunteer action.